Oscar winner Jamie Lee Curtis made a heartbreaking confession about her transgender daughter Ruby and we fully understand her.
After taking some minor roles, Jamie had her breakthrough with John Carpenter's legendary horror film Halloween when she turned 20. She was so good in the role of Laurie Strode that horror movies became her thing. Halloween established Jamie as a "Scream Queen" and opened the doors for her to a string of parts in horror films such as The Fog, Prom Night, Terror Train (all 1980) and Roadgames (1981).
Following the 2023 Oscar ceremonies, Jamie is a proud new owner of a coveted Academy Award.
"The longing for attention and appreciation for your work is universal," the actress said. "Whatever job you do, you hope someone appreciates you. And this is a really lovely, shiny gesture of appreciation."
"My mother and my father were both nominated for Oscars in different categories," Jamie said. "I just won an Oscar!"
"I know it looks like I'm standing up here by myself, but I am not. I am hundreds of people…we just won an Oscar."

Jamie Lee Curtis accepts the Academy Award for Best Actress in a Supporting Role for "Everything Everywhere All at Once."https://t.co/OizA2V2cyr#Oscars pic.twitter.com/TsfrmiEWI5

— ABC News (@ABC) March 13, 2023
She won the award for the film Everything Everywhere All at Once, which received seven awards on a landmark night. In her speech, Jamie thanked her family and those who have supported her "genre movies" throughout the years.
During a virtual appearance on the Today Show, Jamie spoke of the entire experience and told the hosts that she's still in disbelief. When asked whether she has named her Oscar statuette, the actress said that she hadn't, but she would refer to is as they/them in honor of her transgender daughter, 26-year-old Ruby.
"In support of my daughter Ruby, I'm having them be a they/them," Jamie told Savannah Guthrie and Hoda Kotb. "I'm just going to call them 'them', they/them, and they are doing great.
"They're settling in."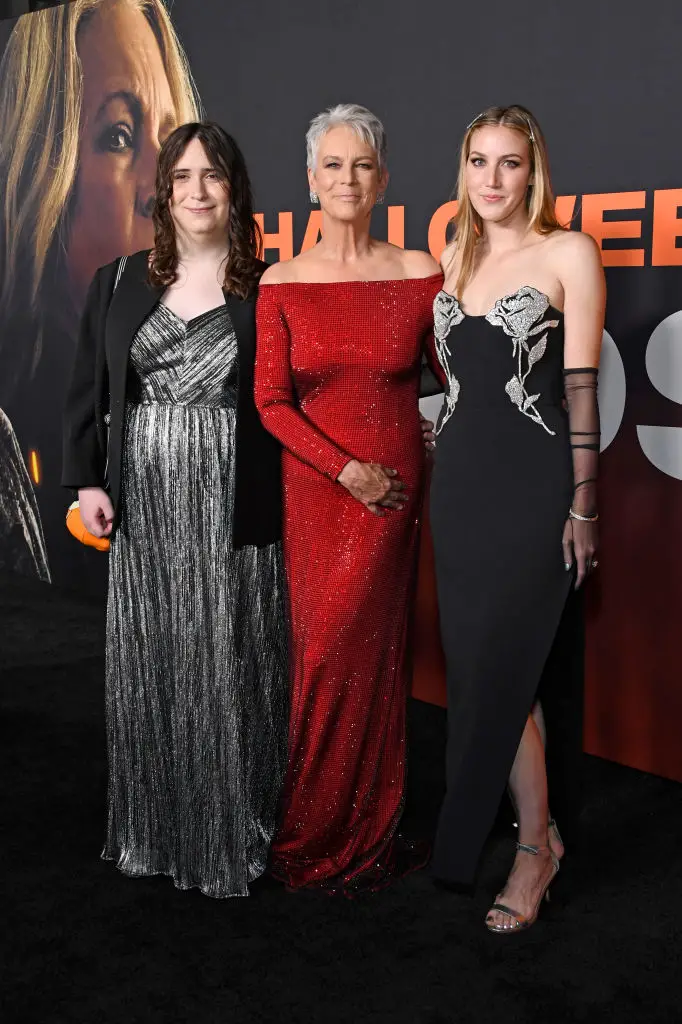 In the past, Jamie has spoken of her feelings regarding her daughter's decision to live as a transgender person.
"It's speaking a new language," she said. "It's learning new terminology and words. I am new at it. I am not someone who is pretending to know much about it. And I'm going to blow it.
"I'm going to make mistakes. I would like to try to avoid making big mistakes," she continued.
"You still mess up, I've messed up today twice. We're human.
"But if one person reads this, sees a picture of Ruby and me and says, 'I feel free to say this is who I am,' then it's worth it."
Ruby works as a video editor for a gaming personality on YouTube and despite coming from a family of very famous actors, she hasn't tried herself as an actress and has stayed out of the spotlight most of her life.
"I knew Ruby had had a boyfriend. I knew that Ruby had used the word bi. But gender identity and sexual orientation — those are two separate things," the two-time Golden Globe winner said.
Jamie Lee Curtis winning an Oscar was just something that we have all been waiting for. Well-deserved indeed.
Please SHARE this article with your family and friends on Facebook.